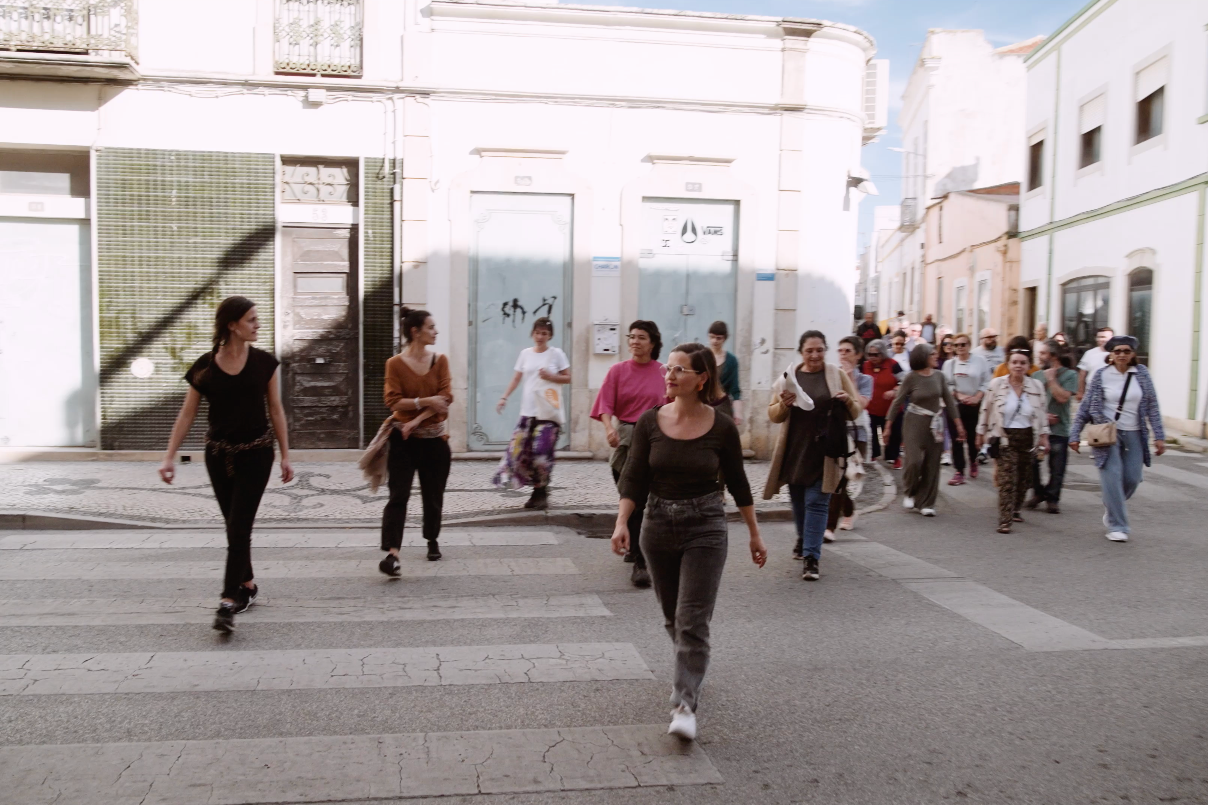 © Gonçalo Soares

The songs we sing against the walls we clean

A walk in the streets of the city, where 15 women activate the landscape as a resonance chamber: from body to body, from walls to voices, from memory to gesture, from gesture to the desires of future.
This outdoor performance investigates the concept of a choir of women - a collective of voices that negotiates anonymity and singularity, while sustaining together an ephemeral harmony. The creation process includes a workshop of 7 days with 15 local women. The participants of the workshop are the performers of the piece and co-creators of the material generated.
In the workshop, we work the relationship between voice, body and vulnerability, through different exercises of voice, movement and writing. What is a vulnerable voice? Can vulnerability be communicated?
This feminist artistic gesture aims to create a collective space of listening and tuning with the voices, emotions and biographies of each woman that participates. What words can we create together? Which melodies are inscribed in different parts of our bodies? Can we awaken them so that they can finally speak up and sing? The sounds that weave the invisible nets that we need to build.
PRESENTATIONS
25 MAR 2023: Cineteatro Louletano (Loulé)
26 MAR 2022: Musibéria (Serpa)
28, 29 OUT 2022: Casa da Memória (Guimarães)
WORKSHOPS
20 - 28 OUT 2022: Casa da Memória (Guimarães)
21 SET - 15 OUT 2022: Quinta Alegre (Lisboa)
19 – 25 MAR 2022: Musibéria (Serpa)
14 - 18 FEV 2022: Estúdios Victor Cordon (Lisboa)
13 – 19 SET 2021: Alkantara (Lisboa)
5 - 16 JUL 2021: Linha de Fuga (Coimbra)
17 - 20 JUN 2021: Centro Cultural da Malaposta (Odivelas)
Artistic Direction
: Catarina Vieira
Co-Creation:
Aixa Figini, Catarina Vieira, Josefa Pereira
Documentation and sound edition:
Artur Pispalhas
Financial Support
: República Portuguesa - Cultura I DGARTES – Direção-Geral das Artes
Co-production
: Alkantara
Support:
Linha de Fuga; Efémera Colecção; OPART/Estúdios Victor Cordon
Residencies
: Alkantara; Centro Cultural da Malaposta; Musibéria; Espaço da Penha | O Rumo do Fumo
© Gonçalo Soares

© Gonçalo Soares
© Gonçalo Soares
© Gonçalo Soares
© Gonçalo Soares
© Gonçalo Soares
© Gonçalo Soares
© Gonçalo Soares
© Gonçalo Soares
DOCUMENTATION OF THE RESIDENCY AT LINHA DE FUGA